1. Pullout kitchen drawers are sturdy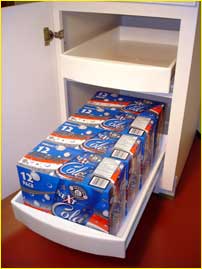 Many people may believe that pullout kitchen drawers are flimsy and can break easily. It all depends on the manufacturer.
If the pullout kitchen drawers are made in China, then yes it will likely break faster and easier than if it were made in the USA.
Just to prove that the pull out drawers sold on our website at Roll Out Kitchen Drawers are sturdy we stocked a drawer full of pop in them.
Not only does the pullout kitchen drawers fit 48 cans of your favorite canned beverage but the shelf can withstand the weight of the full cans of pop.  The approximate weight of this is 50 pounds.
Pullout kitchen drawers offer you the convenience and easy access to any item that you are looking for.
2. Installing pull out kitchen drawers is easy
Save yourself 1000's of dollars by installing pull out kitchen drawers.
Simply by buying pull out kitchen drawers and installing them yourself with a screwdriver you can save the cost of hiring a carpenter to custom build you slide out shelves or pullout kitchen drawers in your cupboards.
If you need help with installing pull out kitchen drawers, simply ask a friend or a family member that is handy with tools to install your new drawers.  Learn how to measure your cupboards for pullout kitchen drawers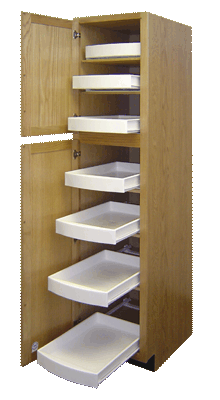 Pullout kitchen drawers offer convenient options to organize your kitchen cupboards, pantry cupboards, linen drawer, RV, storage shelf, cottage, and your entire home.
Impress your company withs pull out kitchen drawers that look impressive and are easy to use.
Learn more about sliding shelves to organize all areas of your home. Storage trays work perfectly to hold large or tiny objects in an organized space. RV sliding trays are super convenient for added storage in your RV or travel trailer. kitchen cabinets.
Half shelf pullout drawers are also convenient for shorter shelves and cupboard space. Slide out trays have been designed with a sturdy sliding cargo tray to organize your cupboard quickly.

Roll out Kitchen Drawers wants to know that you are satisfied with your roll out drawers. Read the Slide Out Kitchen Drawers guarantee policy. 
Contact Roll out Kitchen Drawers if you have questions.