TWO WAYS TO CONVERT YOUR KITCHEN CABINETS OR PANTRY
1. OUR KITCHEN ROLL OUT DRAWERS
"Simplicity – the ultimate design"
When we started the design of our kitchen roll out drawers, we had 4 goals in mind:
The drawer must look elegant
It must be durable…capable of holding about 100 lbs
It must be dead easy to install
It had to be mass produced to keep the cost (and price to U) as low as possible
Here's what we came up with:
A simple curved-front-face drawer that comes in one color only… White…and looks elegant in any cabinet setting.
Drawer Material- High Impact, Kitchen Grade Polypropylene (a type of plastic) reinforced with fiberglass & steel.
A patented design base to hold the drawer…and a key component to easy installation. See

 EXTREMELY IMPORTANT below to see why.

3/4 Extension Guides Only (Rails, Slides). See our explanation why…

WHY 3/4 EXTENSION

?
Load Capacity-100 lbs
Recommended Max'm Load- 60 lbs. 
Designed to fit kitchen base cabinets which are 22″ deep. All drawers are 21 5/8″ long and 3″ high – only the width varies. 
Only 5 standard widths…11"-14"-15"-17"& 20"…no custom widths.
US Patent No.- US 6,659,576 B1
Steel Reinforced Bottom

11″, 14″, & 15″- Single 'H' (see picture)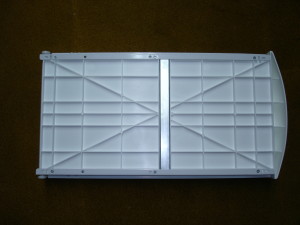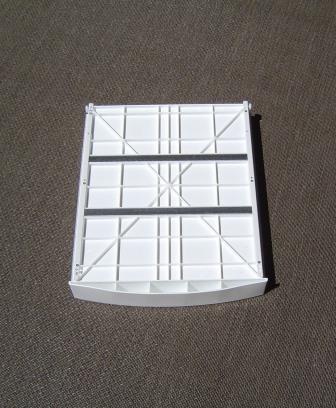 Nylon Roller Detail – Base Front
Drawer Loaded With 50 lbs…4 cases of cola is a lot of weight!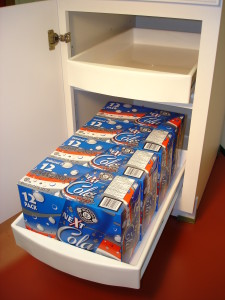 2. OUR KITCHEN PULL OUT SHELVES
We've been trying for some time to come up with a less expensive product that is durable and still gives you access to the back of your cabinets. The best solution we've come up with so far is a stripped down version of our KITCHEN ROLL OUT DRAWER…we call it our KITCHEN PULL OUT SHELF.
Here's what you get with our KITCHEN PULL OUT SHELF…our KITCHEN ROLL OUT DRAWER, without:
The poly base members
The roller rails
The steel cross supports
The associated assembly of the above
But, we added 6 felt pads on the bottom of the drawer…so it slides easily on any shelf.
Bottom line…you get a poly drawer that holds a lot of weight and holds liquids indefinitely. The drawer does not attach to your shelf, or cabinet walls…it just sits on your shelf. When you pull it out, you have to support the front end.
But…almost half the cost… you have to do a little more work…you still get easy access to the back of your cabinets.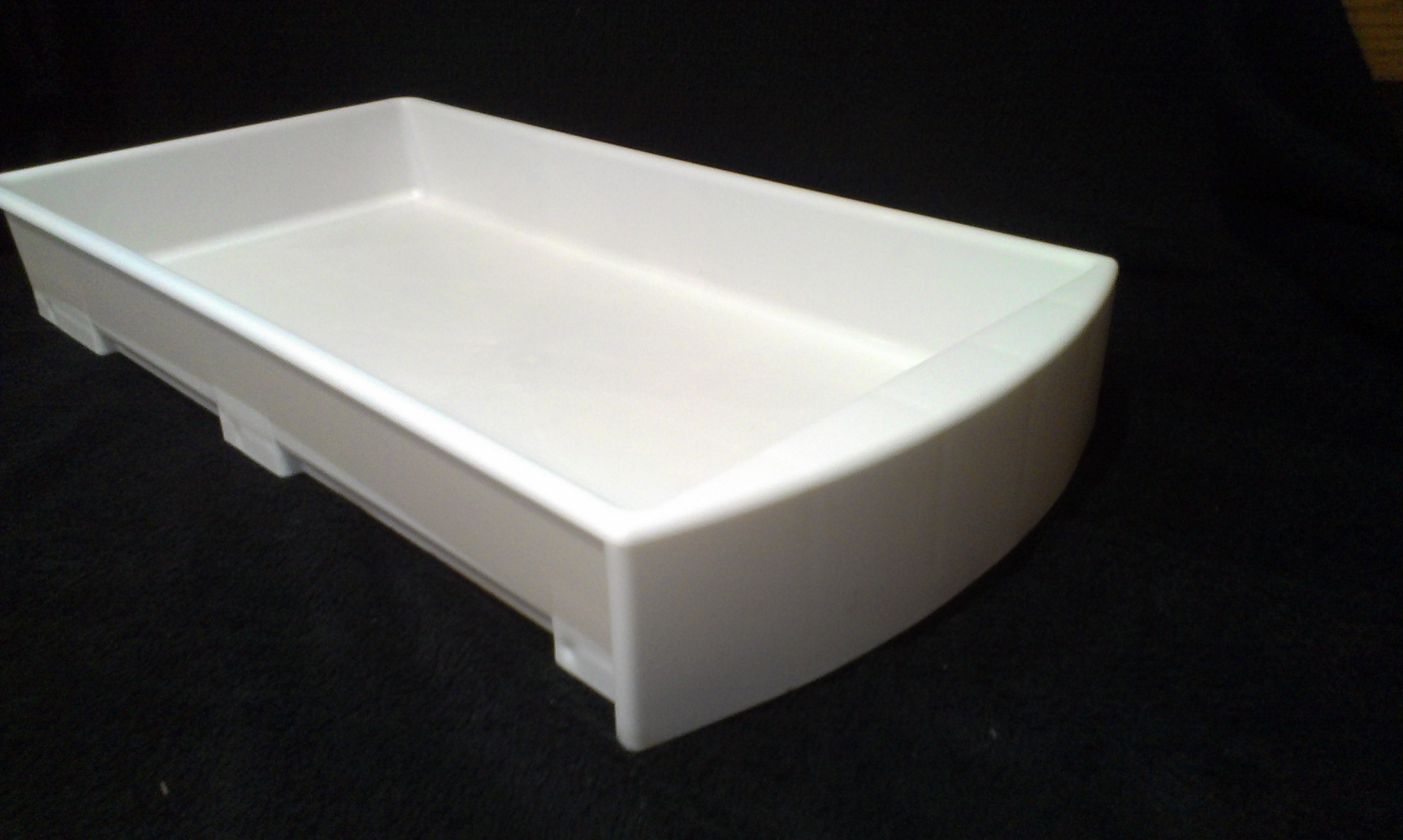 Felt Pad placed over screw hole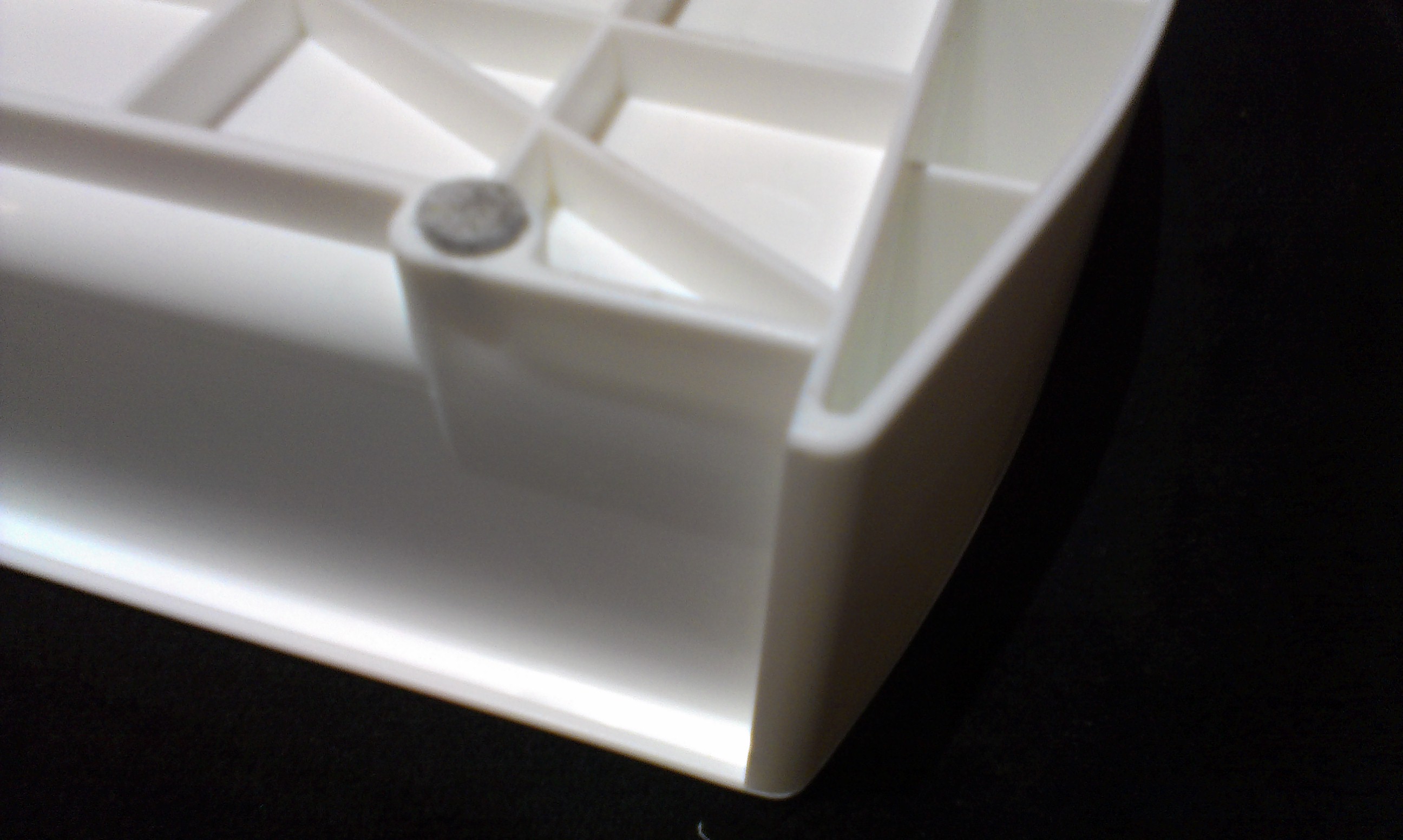 6 Felt Pads Placed Over Screw Holes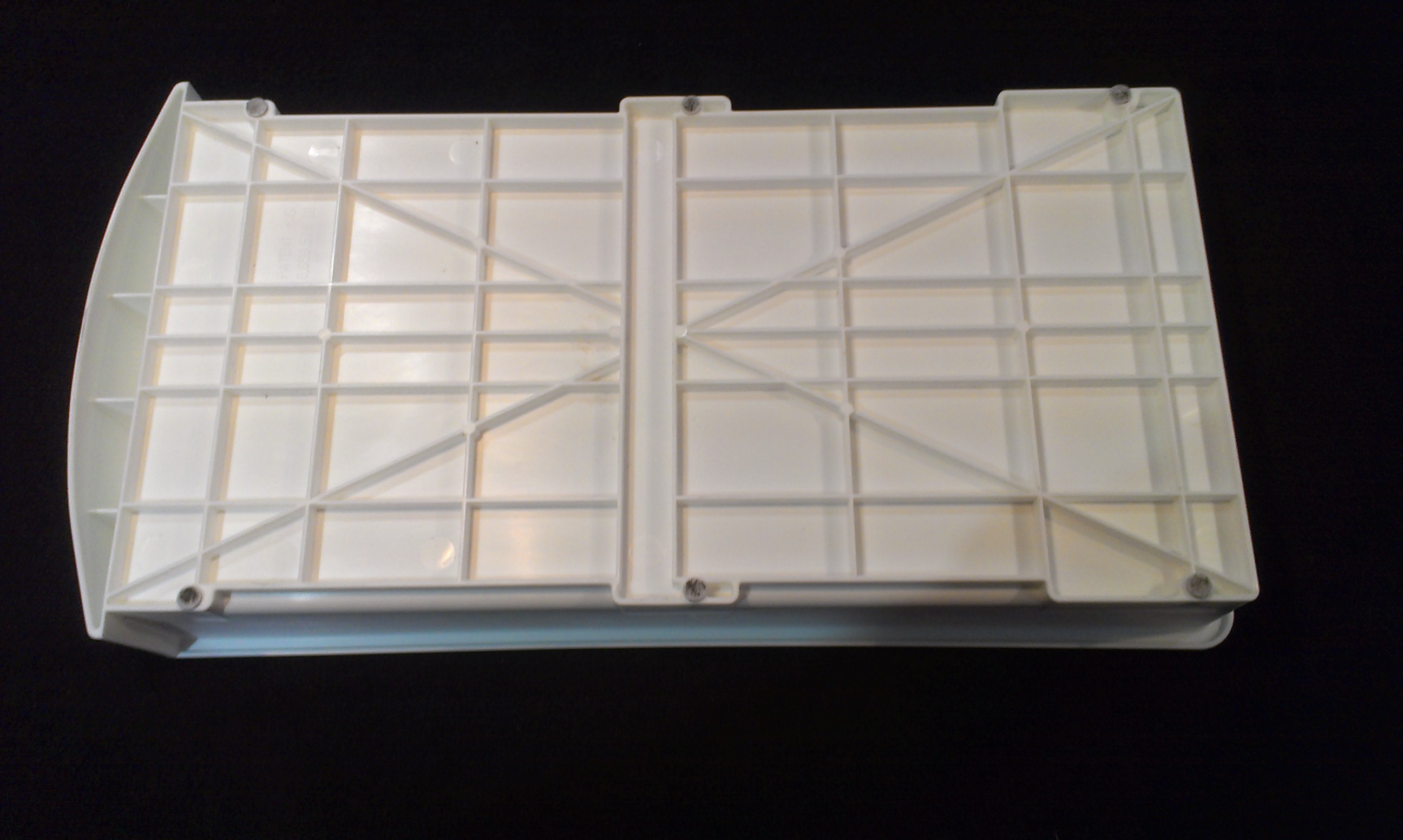 We leave the choice to you….ROLL OUT DRAWER, or PULL OUT SHELF.
Now that you've seen our products, all you have to do is measure your openings and place your order to have the kitchen you've always wanted. Here are the links to help you:
LINKS
5 REASONS WHY NOTHING INSTALLS EASIER THAN OUR PULL OUT KITCHEN DRAWERS
EXTREMELY IMPORTANT
The drawer comes with a ONE PIECE, PRE-ASSEMBLED, FACTORY ALIGNED BASE which makes the installation a SNAP. Drawer rails come in sets…an OUTER SET that normally fastens to the cabinet walls…and an INNER SET that fastens to the drawer. The two sets have to interlock to fairly tight tolerances…too loose and the drawer will not hold much weight…too tight and the drawer will jam. If you are trying to install rollouts in your existing cabinets the conventional way (outer rails attached to cabinet walls)…not only are you working in a cramped, dark space…you have to shim the outer rails to match the drawer rails.
Our design solves this problem by making a ONE PIECE, PRE-ASSEMBLED, FACTORY ALIGNED BASE…designed to hold the outer rails at exactly the right distance for easy rolling…no finicky shimming…all you do is screw the base into your existing shelf…place the drawer in the base…and BINGO!…you have a roll out drawer where you used to have a shelf. IT'S THAT EASY!
Some of our compeitors have similar products that screw to a shelf. To avoid our patent, they give you 4 angle irons…2 per side…and instruct you to install one side…and then tell you to align the other side…putting the alignment problem on you. Our ONE PIECE, PRE-ASSEMBLED, FACTORY ALIGNED BASE eliminates alignment problems for you. Just put the base on your shelf…put in 4 screws…pop in the drawer…and it works perfectly every time. To see just how easy the installation is watch this 2 minute video…INSTALLATION