EXTREMELY IMPORTANT TO BUYING THE RIGHT SLIDE OUT SHELVES
The drawer comes with a ONE PIECE, PRE-ASSEMBLED, FACTORY ALIGNED BASE. Similar DIY products you may purchase from IKEA, Home Depot, Lowes, Amazon, Beth Bath and Beyond, Target, and the Container Store, may not come with a ONE PIECE, PRE-ASSEMBLED, FACTORY ALIGNED BASE which makes the installation much more difficult.
Installation without a one-piece, pre-assembled, factory-aligned base:
You open the box and there is the drawer basket with 4 metal rails, 4 metal 'L' angles and some screws.
You screw the drawer rails to the drawer…easy so far.
Next, you attach 2 of the 'L' angles to each of the cabinet rails.
Then, you take a square and place it along the cabinet wall and draw aright angle line across the front of your cabinet shelf (to allow you to align the fronts of the 'L' angles.
You take the left cabinet rail…align it to your mark…and screw down the front and back 'L' angles…this side is screwed down hard in its final position…so it is unmovable.
Then you place the right hand assembly up against the mark and screw down the front and back…but not tightly (the 'L' angles have slots for the screws to allow adjustment).
Next, you insert the drawer, allowing the right side to move in or out until the drawer rolls freely.
Now you, very gently, remove the drawer. Make a mistake…the rails move, and you start all over.
Finally tighten the screws and re-insert the drawer.
Who needs this hassle?
With our one piece, pre-assembled, factory aligned base, all you do is:
Slide the entire unit onto your cabinet shelf
Fasten the base to the shelf with 4 screws
Pop the drawer into the base unit
…and your done. 
6 QUICK PRO TIPS TO MAKE THE INSTALLATION OF YOUR SLIDE OUT SHELVES A BREEZE
https://www.rolloutkitchendrawers.com/blog/
Review the Installation Sheet (PDF)
Watch the Pullout Drawers INSTALLATION VIDEO
1. SECURE SHELVES
The bottom shelf is always fixed. The middle shelf may be fixed or adjustable.
The drawer must be installed on a fixed shelf, otherwise the shelf will tip up when the drawer is extended. To secure the shelf fasten a steel angle to the back of the shelf and the back of the cabinet.
2. ATTACH DRAWER BASE TO SHELF
Place the drawer base on the shelf with the rollers facing you.
Center the base and set it back 1.5″ from the front of the shelf.
Screw down the front 2 screws followed by the back screws.
3. PLACE THE PULLOUT DRAWERS IN THE BASE
Place the rollers on the back of the drawer over the rollers on the base and drop.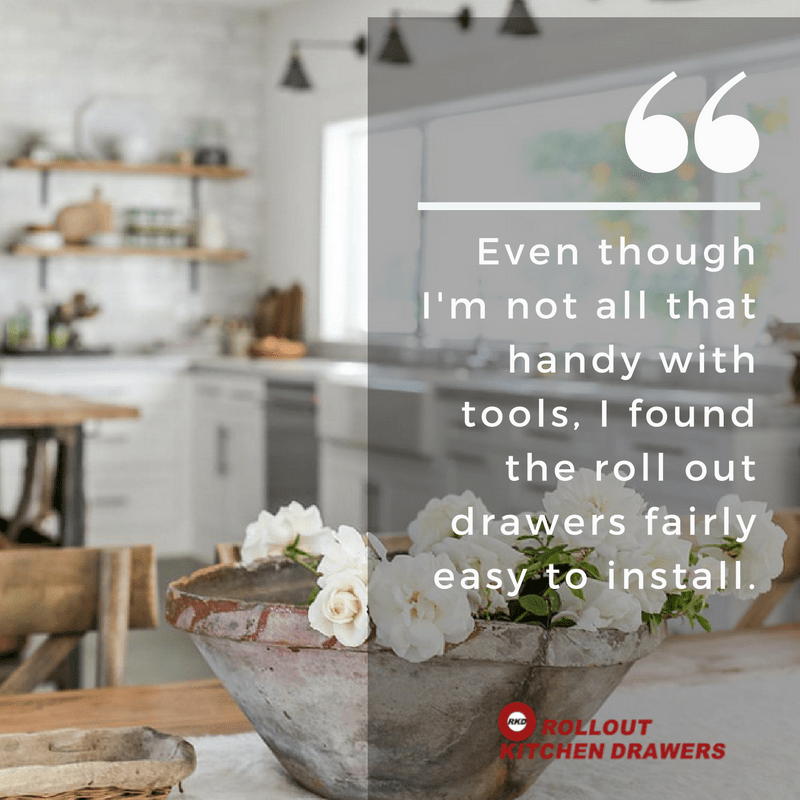 Learn more about:
dimensions for roll out shelves
how to measure sliding shelves
what sliding trays are made of