1/2 SHELVES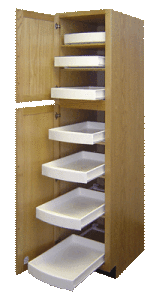 Our drawers require a full shelf…at least 20″ deep. For 1/2 shelves, we recommend you place another 1/2 shelf in front of the existing shelf.
Home Depot/Lowes:
have partial sheets of shelving material…
usually do the cutting for free…
and carry a ribbon called EDGE BANDING that you simply iron onto the front cut edge of the shelf to give it a finished look.
The one good thing I can say about 1/2 shelves is you don't have to secure them…they are fixed shelves.
( A rollout attached to a shelf…and then rolled out…acts like a lever on the shelf…pushes down on the front of the shelf…pulls up on the back. The leverage with our design is roughly 1:1)