Sliding shelves are designed to primarily fit kitchen base cabinets and can also be a quick and easy way to organize your pantry, garage, rv, and cottage cupboards.
3 reasons that sliding shelves result in beautiful looking organized shelves to improve the look of your kitchen,  provide easier access to hard to reach items, and save you time looking for lost items.
#1-  Quickly upgrade your cupboards with appealing sliding shelves
Sliding shelves are an easy and cost-effective way to upgrade your cabinets without a full kitchen renovation and the costly price of custom made pull out drawers.
You can save renovation costs from hiring a carpenter to install custom roll out shelves by easily installing them yourself.
Roll out drawers create an organized and efficient way to find your belongings.
#2- Sliding shelves organize your items for easier access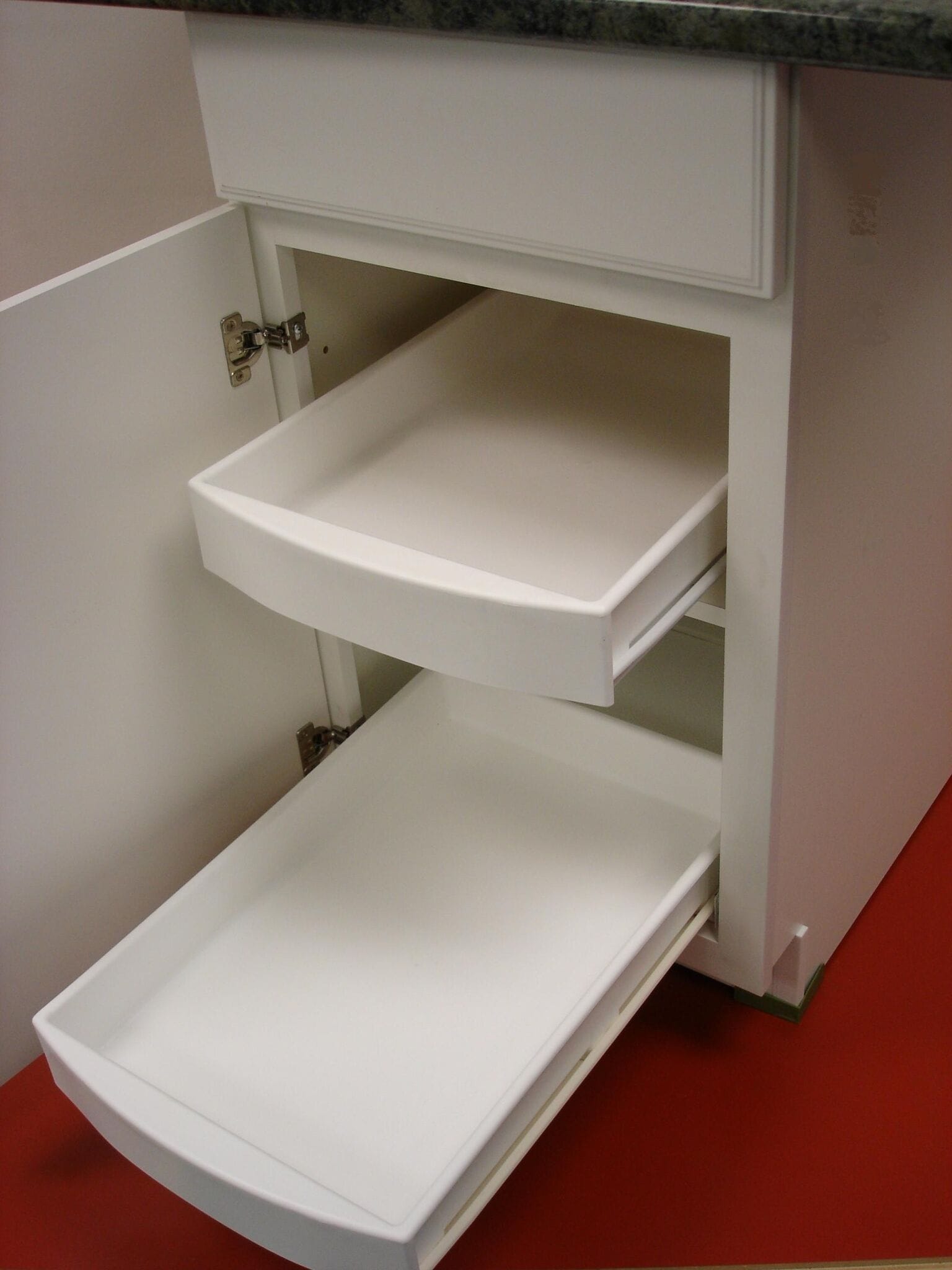 Are you wondering how to best organize your items for access?
Have you ever experienced cooking a meal and you need one ingredient that you know you have but can't find it in your disorganized cupboard?
Installing sliding shelves is an efficient way to organize the bottles, boxes, spices, tupperware, pans, tools, and so much more.
These easy to install shelves are installed with a screwdriver and some screws.  Grab your handyman or install them yourself.  Learn how to measure out your cabinets now.
Slide the whole shelf out quickly and easily, find your item quickly, and move on with completely your task. Finding all the right ingredients has never been easier.
#3- Save time with slide out shelves
These easy to install shelves organize your pantry, kitchen cupboards, and storage areas for quick access.  Shelves that slide will decrease the time that you spend searching for those hard to find items and especially the hard to reach items at the back of your cabinets
Find that one ingredient missing so you can prepare your favourite meals with ease. Find the right cleaning supplies quickly to finish your chores.  Grab your items that you only need to use once in a while with ease every time.
Steps to buying sliding shelves
Step 1- Learn how to measure your cabinets for easy to use sliding shelves.
Step 2- Choose your sliding shelves width here.
Step 3-  Buy sliding shelves now!
Contact Roll out kitchen drawers to learn how sliding shelves can improve your life by making it easier to find and organize your belongings. Get started with Step 1 now. Learn how to measure your sliding shelves now!